George Finley is one of the best known artists of United States Army subjects. Art has been a part of his life since he was very young. As a boy he developed a fervent interest in drawing and he won awards for his paintings in school. As a cadet in West Point his cartoons and illustrations appeared in The Pointer, the cadet literary publication. Soon after graduation in 1960, he began to publish his now well known series of military caricatures. This work features branches, specialties and other aspects of the US Army and is often based on his own military experiences.
George retired from active duty in 1983 and established himself as an artist in Germany. He had many shows in his gallery in Gnadental near Schwäbisch Hall and elsewhere, successfully displaying his water colors and pastels. At the same time he continued to add to his series of military caricatures. Beginning in 1988 several US Army commands commissioned George to create paintings commemorating the service of members of those commands in Europe during the Cold War and later.
He changed the style of his fine art in 1995 from representational to abstract. Later in 2002 he displayed for the first time a painting in his own style, the New Line, which he created in response to the tragic events of September 2001.
Bill Mauldin
(1921- 2003)
Legion of Merit, Purple Heart, Sergeant, Honorary First Sergeant.
Two Pulitzer Prizes for Editorial Cartooning
The front line soldier creator of Willie and Joe whose experiences in the pages of the Stars and Stripes newspaper helped US Soldiers get through World War II.
I am indebted to my brother Harry who arranged for me to receive this drawing from Bill Mauldin in the 1990's. I am humbled to have been called Bill's colleague.
George Finley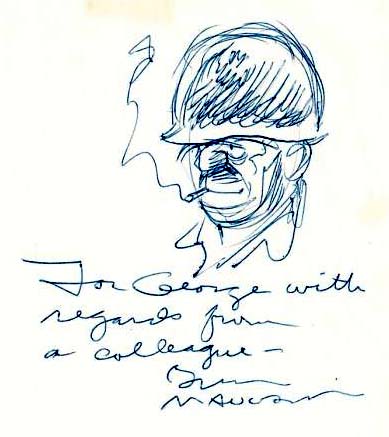 "George Finley stands in front of a Soviet SS20 missile and a US Pershing II missile on display at the Air and Space Museum in Washington, DC in April 2013. The two unarmed and inert missiles stand together as a symbol of the successfully completed Intermediate Range Nuclear Force (INF) treaty signed in 1987 between the USA and the Soviet Union to eliminate both nuclear weapons systems."
"PERSHING II -​​ THE FINAL COUNTDOWN" print is on the commemorative page